So religion is fun isn't it? Well one company thinks it's fun enough to have made some very special "Jesus Shoes" where you can literally walk on holy water all the time. The shoes were designed by a Brooklyn based creative arts company called MSCHF. They have a mission to release something every second and fourth Tuesday of the month and this is one of their latest creations.
To create the shoes they bought a normal pair of Nike Air Max 97 sneakers. Those particular shoes sell for about $160 but with the modifications that MSCHF added like the golden Jesus on a crucifix shoelace charm it's only natural they would sell them for more than buying price. They went on sale for $1,425 and were quickly sold. Within a minute of listing them on their retail site.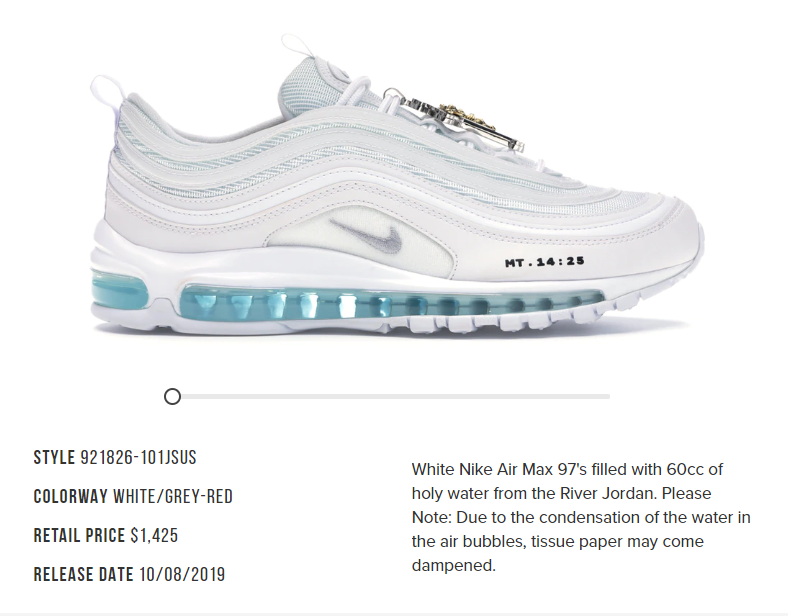 Now they are up for sale on a site called StockX and are selling for over a thousand dollars. The next owner is sure to be blessed as they walk on water in these fresh kicks. The good news is that they have available sizes 8-13 so if you would like to get them in your size there is a pretty good chance you can.
If you can't get these another popular pair of Nike's are the Supreme x Nike Air Force 1 Low. If you do get a pair, let us know! We would love to hear about whether or not your feet feel enlightened, or if your souls are uplifted. Get it? Feet… soul? Ah nevermind.