There was a lot of excitement after the announcement that Marvel had rehired James Gunn to direct Guardians of the Galaxy 3 (once he finishes Suicide Squad 2 of course).
Everyone was surprised but for the most part pleased with the news.
With one notable (and laughable) exception.
Thor: Ragnarok director Taika Waititi took the opportunity to troll the internet with a tweet in response to the news: "What the hell?? I thought I was going to do it?!"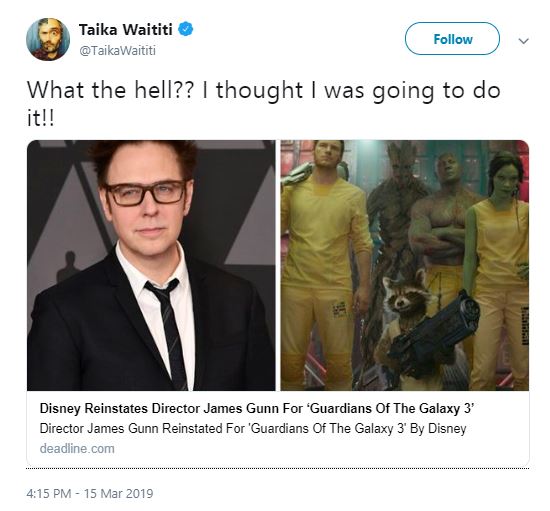 This tweet is especially funny as Waititi was one of the most popular names bandied about as a possible replacement for Gunn. There were even rumors that Marvel had met with him about the project. Not true, as Marvel has said they never met with or considered other directors. Maybe the rumor was sparked by meetings regarding his direction of an episode of The Mandalorian?
We don't know, but his cheeky little joke is just the cherry on top of the happy sundae for those of us who would like to see Gunn round out a trilogy of Guardian films.
(Sadly, Waititi's next widely circulated tweet would be in response to the tragic shootings in the New Zealand terror attacks. He tweeted: "My heart is broken. My country is weeping and so am I. I am dying knowing that this kind of hatred can happen in my homeland. All my love goes out to Christchurch, the victims, the families, the Muslim community, and all who have chosen our islands as their home. This is not us.")