You might want to go easy on the drinks when you go see the next Avengers movie! A bathroom break might not be in the cosmic cards.
On a recent live Q&A with Avengers Director Joe Russo, he was quoted as saying "The running time on Avengers 4 is currently sitting right at three hours, so we'll see if that holds, but it's sitting right at three hours right now,".
Yes, you read right…3 HOURS!!!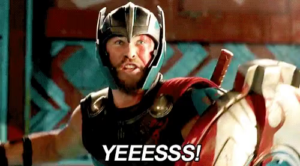 Now, I loved Infinity War, so bring on the extra time!
I'll even take a 10 minute wedding with Tony and Pepper if that means I get to see more of the movie.
We already know that we're losing Captain America (Chris Evans) from the MCU. So why not make the movie the master piece it deserves to be with a longer run time.
Let's hope it stays at 3 hours. Heck, go 4…I'm good with that!