There are plenty of watches out there that can be considered "classics." But some watches truly define their time – these watches become icons. Not only do they have great aesthetics, but they have a story to tell as well. Here's a list of the most desirable and historically important watches.
The Most Historically Important Watches: We may never know who invented the first timepiece. But one thing's certain—the following watches have shaped what we know as "watches" today. Prize them for their form, or their function, but either way, be sure to pick a few from the list of "The Most Historically Important Watches" for your luxury collectors' watch choice.
Rolex Submariner
The Rolex Submariner is an iconic watch that has been worn by many celebrities, sports stars, and even presidents. It was first launched in 1953 and since then it has been a favorite watch of many people.
This watch was designed for divers who wanted to know how deep they were diving. It was waterproof up to 300 meters, which meant that it could withstand the pressure of diving at such great depths.
The Rolex Submariner has a rotating bezel on its face that allows you to time your dive accurately. This is also known as a chronograph and is used by divers to calculate how much air they have left in their tanks during dives.
The Rolex Submariner was designed by engineer Gerald Genta, who also created the Patek Philippe Nautilus. He was tasked with creating a watch that could withstand the pressures of deep-sea diving, which meant using high-quality materials like stainless steel and sapphire crystal to make them as strong as possible.
The Submariner is one of the most iconic watches in history, with a distinctive look that makes it instantly recognizable around the world. It's been worn by celebrities like James Bond (Sean Connery), Prince William (Kate Middleton's husband), Prince Harry, and many others over the years because of its timeless design and style.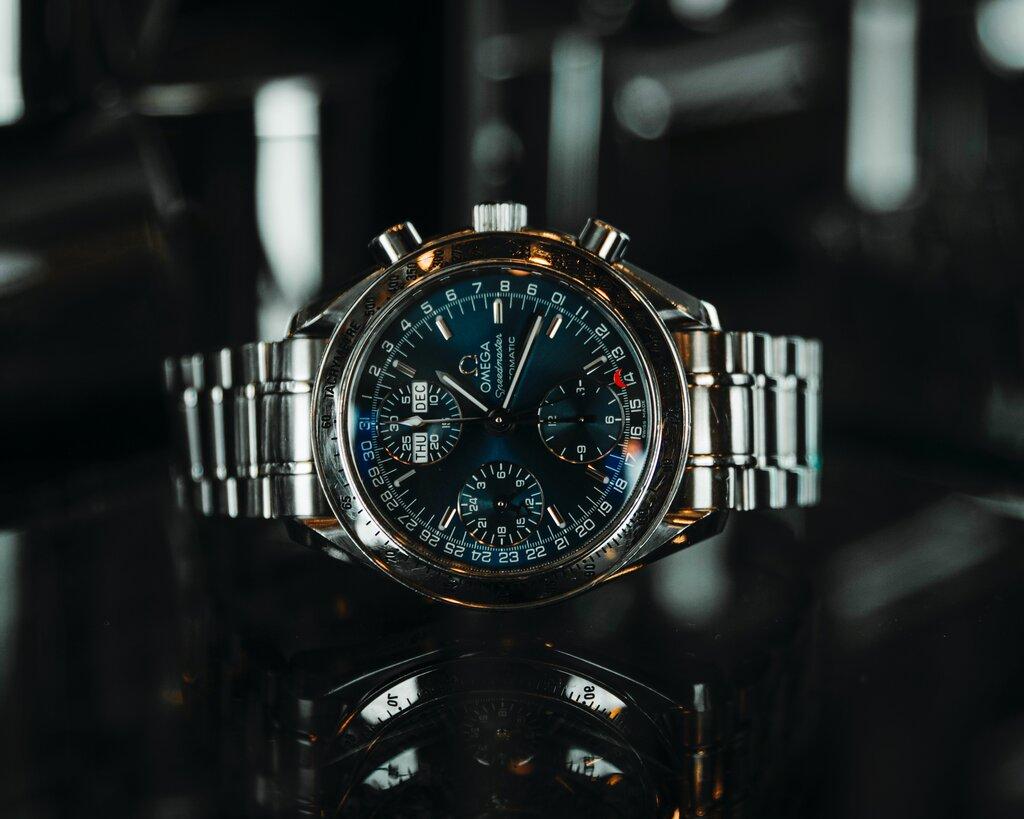 Omega Speedmaster Professional
The Omega Speedmaster Professional is the watch worn by astronauts on the Moon and the watch that is the pinnacle of mechanical watchmaking.
The Omega Speedmaster was made famous after Buzz Aldrin wore it during his historic spacewalk on July 21, 1969. With a waterproof case back and a black dial, this watch was made to be worn under pressure. The Speedmaster Professional has been used in space missions like Apollo 12 and Apollo 13, but its key role was in the lunar mission of Apollo 11. It was worn by Buzz Aldrin when he became the second human being to step foot on another celestial body — an achievement that cemented Omega's place as a pioneer in horology.
The Caliber 1861 movement is based on an ETA base but heavily changed by Omega's engineers. It has been tested in extreme conditions such as deep-sea diving or even outer space tests for NASA (the result is -4°C/+20°C). The Caliber 1861 movement is also visible through an exhibition case back, so you can see all its components when it's sitting on your wrist.
A fake Omega Speedmaster is the perfect replica for a more price-oriented buyer, with all the features of the original and at a reduced cost.
Breitling Navitimer
In the late 1940s, Breitling was in desperate need of a new product. The company had been founded in 1884 by Léon Breitling, a watchmaker from Grenchen, Switzerland. Léon's son Gaston had been running the company since 1930, but he struggled to find a product that would keep the firm profitable.
The answer came in 1947 when an American pilot named Jacqueline Cochran visited Breitling's offices in Grenchen. Cochran was at the time preparing for her attempt to break the world speed record for women pilots and she wanted to use one of Breitling's chronographs to time her flights. Cochran was delighted with the results — so much so that she asked Breitling if they could make a chronograph designed specifically for pilots that would allow them to take off and land safely even if their instruments failed due to fog or smoke.
Breitling delivered on this request by creating two different versions of its Breitling Navitimer model: one with a small seconds subdial at 12 o'clock and another with larger hour markers around its dial. This watch would become known as the Navitimer 01 (or simply "Navitimer").
It has since become one of the most popular pilots watches ever made. The name Navitimer comes from "navigation" and "time."
Breitling launched its first Navitimer watch in 1952, but it was not until 1954 that the model became a bestseller due to its success with pilots and other professionals who needed a precise timepiece that could also be used in navigation. The model was so popular that Breitling decided to produce it in four different collections: Chronomat, Superocean, Cockpit, and Vintage 1945.
IWC Mark XI Pilot's Watch
The IWC Mark XI Pilot's Watch is a watch designed for pilots and other professionals who need to keep the correct time while working in the air. The IWC Pilot's watch was first launched in 1931, and it has since become a classic.
The Mark XI was designed by Captain Robert Dudley Craig and Mr. Jules-Louis Audemars, who were both pilots themselves. They wanted to create a watch that would be useful on long flights, particularly if the pilot had to fly at night or in poor visibility conditions.
IWC developed the new movement based on their 793 calibers (which had been developed for use in military chronographs). The 793 had no second hand, but this was replaced with a "stepped" seconds hand that could be used for timing events accurately (to 1/5th of a second). The movement was also adjusted to allow the watch to function properly at altitudes up to 30,000 feet (9,144 meters).
Watches are a big part of history, and many models have been iconic throughout the years. If you're looking to start collecting or just want to add something new to your collection, you can't go wrong with these watches.