"Downton Abbey" is returning to the big screen with a sequel film, and you could win an invite to the North American premiere! By entering via Omaze, you have a chance to surround yourself with some of the most popular stars from the series. We all know them by their character's names, so it would be hard not to call them Lord Grantham and Lady Mary. But that's a challenge I'm willing to take.
Join the cast to watch "Downton Abbey: A New Era!" Also, you'll get a script from the film, and the opportunity to have the cast sign it!

You and a guest will slip into your glitziest clothes to hit the red carpet and mingle with the cast of Downton Abbey: A New Era. Be sure to ask "Shall we go through?" before you're whisked into the theater to watch the highly anticipated sequel. You'll be one of the first to see the film and you'll also score a signed script to remember this day with the Crawley family forever. Flights and hotel included.

The Dowager Countess inherits a mansion from a man in her past (scandalous!). They will venture across the channel to France to check it out and it looks like a lot of loose ends are going to be wrapped up as well. Including Branson's love life!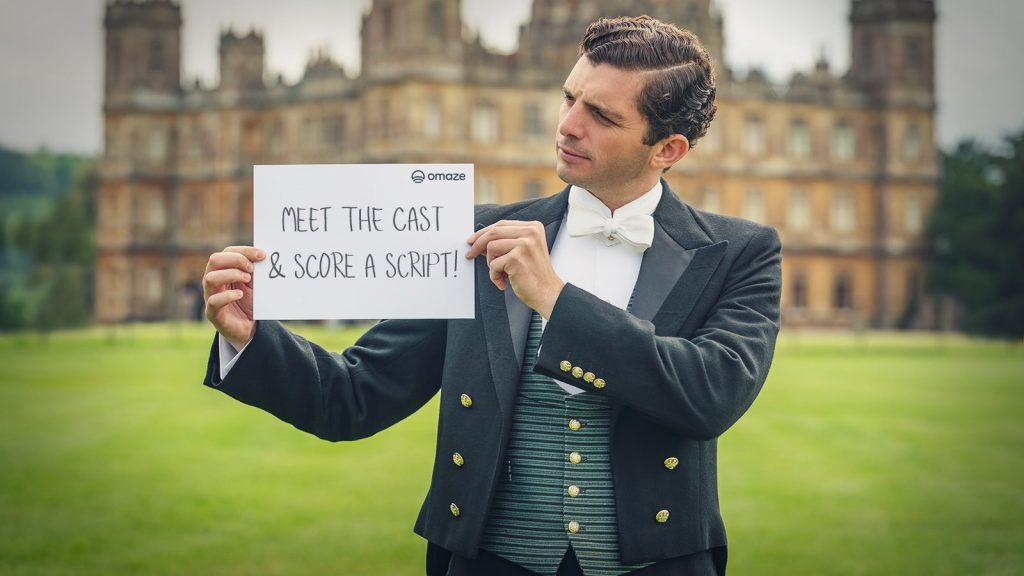 No donation or payment is necessary to enter or win this sweepstakes. However if you do donate, you get more ticket entries and you help Together for Short Lives. Together for Short Lives helps families of terminally ill children to make the most out of everyday. Your money will first go to Charities Aid Foundation America ("CAF America") who will take the fees of the experience out and then grant the remaining money to Together for Short Lives a company registered in Whales, London and Scotland.
The Omaze campaign runs until February 18th, 2022. Winners will be announced March 9th, 2022. Good luck to you!
Otherwise if you'd like to enjoy the film it's only in theaters March 18th. Make sure you keep checking back for ticket sales because this is a film that will quickly sell out.