Videos are everywhere in our life. No matter who you are and what you do, you can see different videos here and there. Video ads, educational videos, music videos, sports competition videos, city promo videos, daily life videos, animated videos, YouTube videos, and other types of video are full of our lives. In this article, we will talk about the importance of a video, why a business video matters, and how to create a business video with an online video maker easily. 
Why is Video Important Today? 
Like words and images, videos are information carriers. Unlike words or images, videos are multifunctional as they do not only have still pictures and words. They are dynamic combinations of different images, words, sounds, music, storylines, and even special effects like films have. These elements work together to deliver helpful information that will occupy people's brains quickly and effectively. 
In today's information and more connected world, you must do not want to miss out on any important news and messages, so you hardly do not take a look at videos around you. Some videos will catch your eyes at their very beginnings. On the other hand, in many cases of our life, you may want to discuss the video contents with others and share videos with your families and friends. The fact is that we can not date back to the old days and live in a world without videos. 
Why Business Promo Videos Matter? 
Different types of videos are used for different audiences and purposes. For example, educational videos are mainly used for school students, sports competition videos are used to record the competition, city promo videos are officially made for visitors, and daily life videos are filmed to catch interesting and valuable moments in our lives. 
Among all videos, business videos may have the broadest range of audiences. Everyone is a customer of this or that product or service. Thus, business videos, especially promotional business videos oriented in branding and promoting, are usually made delicately to face as many audiences as possible. 
Why do business promo videos matter? What is their importance? The answer is simple. It is the branding and promoting as mentioned above. In detail, a business promo video makes impacts in the following aspects: 
Expand brand awareness;
Promote products, services, and campaigns;
Guide potential customers; 
Stand out from competitors;
Win a higher brand reputation. 
If you are an entrepreneur, your good designed and edit promo video will help you boost your sales. People would recognize your brand through your video with a great impression. The videos will attract them to purchase your products or services. The promo activities shown by the videos will no doubt bring people to participate in. 
Create a Business Promo Video with Online Video Maker Easily
When you need a business promo video, what will you do? To enterprises or big companies, marketing and IT departments may work together on this. To small start-ups without professional staff on this, or self-employed individuals who need to save expenditure on this, a common and popular way at present is to find a free online video maker to create their promo video for free. 
There are so many different free video makers online. Searching "free video makers" or other similar keywords in the Google search bar, you can easily find some excellent, easy-to-use free video-making and editing software. Clipchamp, Animoto, Movavi, InVideo, WeVideo, and many more. Here I will show you how to create a business promo video with another free video creator named FlexClip Video Maker in simple steps.    
FlexClip Video Maker is an online cloud-based and in-browser video creating tool. It offers numerous pre-made video templates in various types like business, promo & sales, Christmas, real estate, education, technology, sports & fitness, fashion & beautify, etc. You don't need to worry about video design skills. Delicate templates are made to dispel your misgivings as each provides a base video framework, and the rest thing you need to do is do editing by various means the software allows you to. 
First, open the software, sign up for an account. Click "Promo & Sales" and choose a promo template according to your product and industry. You'll then come to the editing interface and find that the video is divided into several clips. You can also duplicate or delete some of them if you like.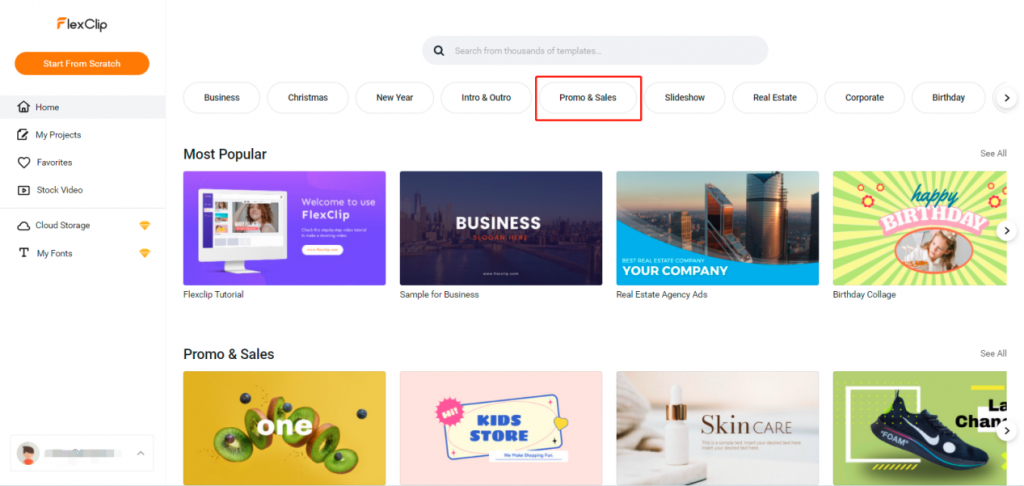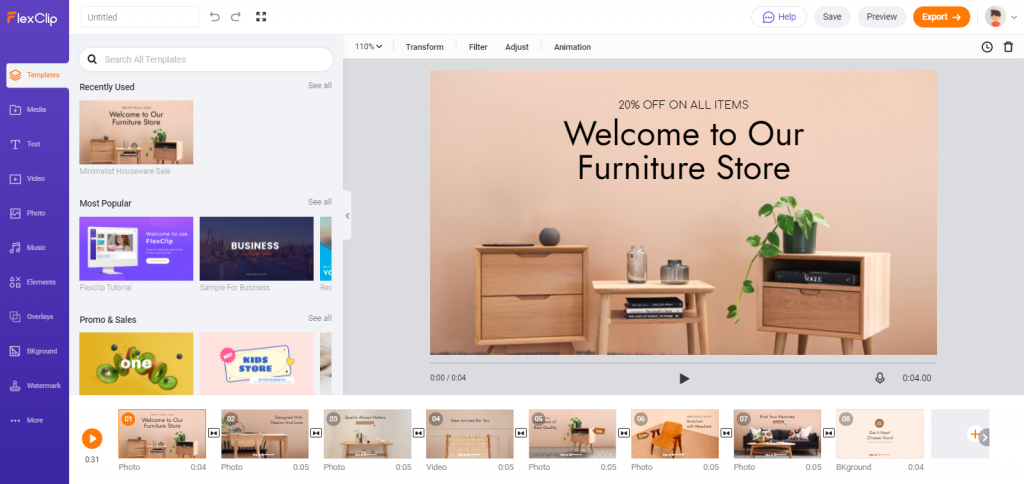 You can do different editing on each video clip. FlexClip Video Maker allows the addition of texts, videos, photos, music, elements, overlays, background, and different icon elements to each of them. It also allows you to change the transition between each clip. You are allowed to zoom in and out for each clip, transform the video clip, and adjust exposure, contrast, brightness, and other properties.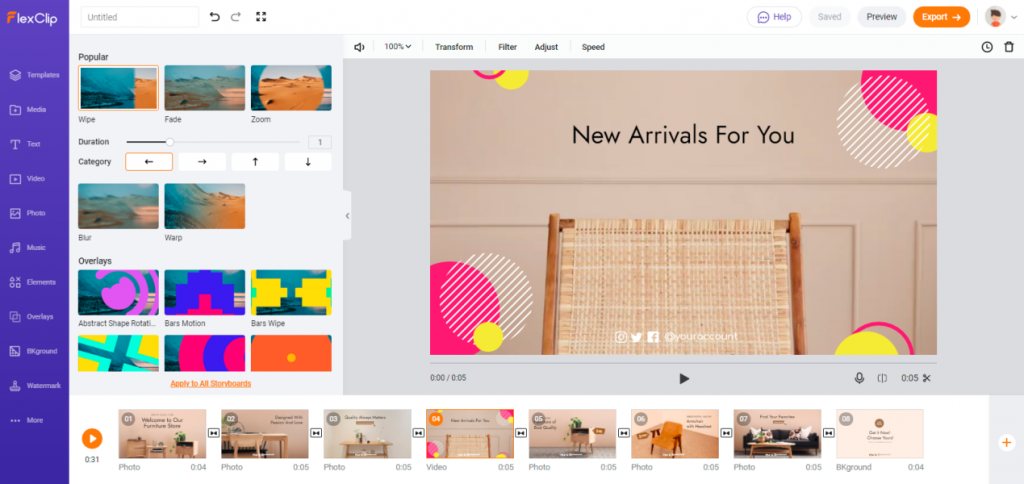 You try as many functions as the software has, and you will explore more features. After you finish editing all video clips, preview the whole video before exporting it. The business promo video will look great. Creating it with FlexClip Video Make only costs you several minutes, and you will find it easy to master and help you create your video.