The USPS has begun their annual tradition of offering letters addressed to Santa Claus for adoption on their site. Children have been sending letters addressed to The North Pole for decades, and unfortunately, some of those in need don't always get fulfilled. If you're looking to send some holiday cheer this year, you can adopt a letter, and send a gift from Santa Claus. After all isn't giving what this holiday is all about?
To Adopt A Letter
Visit the official USPSOperationSanta website, and go through the steps. It appears they've been doing amazingly well matching up letters to adopters, because there only seems to be one on the site as of this writing. One from a 15 year old girl Mackenzie who is asking for gift cards so she can buy herself clothes.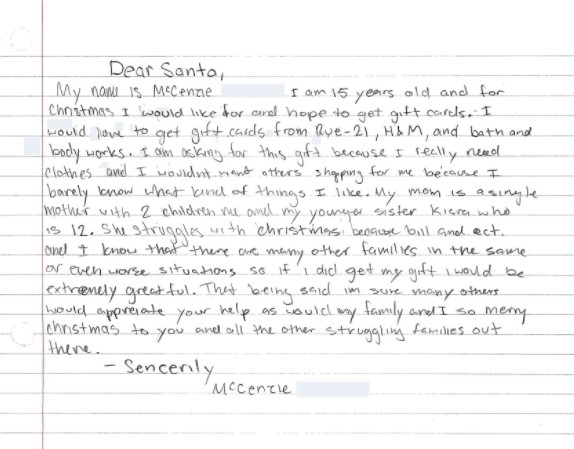 If you can not find a letter in the individuals section please check out the family section where other letters may be posted.
When you decide to adopt a letter further instructions will be emailed to you. The last day to adopt letters is December 22nd.
To Send A Letter
If you would like to send a letter to Santa, or your child might like to, you can send one to:
Santa Claus
123 Elf Road
North Pole, 88888.
Place the letter in an envelope with a first class stamp on it. You need to include your full return address, apartment number and any directional information and zip code.
Letters must be postmarked by December 10th, and will be uploaded to the website through December 15th.