Ready to get tipsy with some brand new "Star Trek" wines? More delicious releases are coming from Star Trek wines, and Trekkors will want to try them! Star Trek has partnered with Wines that Rock to release two NEW limited-edition wines! The two new releases are Andorian Blue (a chardonnay) and Cardassian Kanar (a red wine blend). We'll happily pay a few gold-pressed latinum for either of these.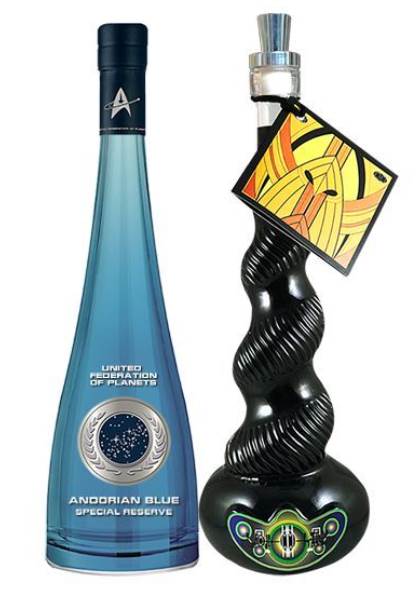 2021 Andorian Blue (chardonnay):
These bottles are one-of-a-kind and hand-numbered, featuring elegant silk screen designs and a special United Federation of Planets metal medallion affixed to the front. A premium chardonnay from Santa Lucia Highlands, this wine has a stellar blue color that pays homage to the history of colorful Star Trek spirits. It's aged 12 months prior to bottling and has delicious notes of citrus, peach and apricots.
Cardassian Kanar (red wine blend):
In a quest for authenticity, the team conducted a rigorous multi-year search for an original Cardassian Kanar bottle, a unique, serpent-shaped vessel, originally utilized in the 1950's through the 1970's in Europe. With only a handful of the original bottles found, the few remaining were rendered in 3D for accuracy in Southern Italy to recreate an identical replica, resulting in one of the most fascinating bottles in the Galaxy.  The wine is a delicious, premium red blend of cabernet sauvignon, merlot, petite sirah and petite verdot, resulting in a dark, rich wine with notes of ripe blackberries and juicy blueberries, velvety tannins, and a long, delightful finish. 
Both wines are now available from Star Trek Wines here. Please drink responsibly and legally.