There's a new tarot deck coming out and all the fantasy loving Witch nerds are excited for it's release. Jim Henson's "Labyrinth" is finally getting an official Tarot deck.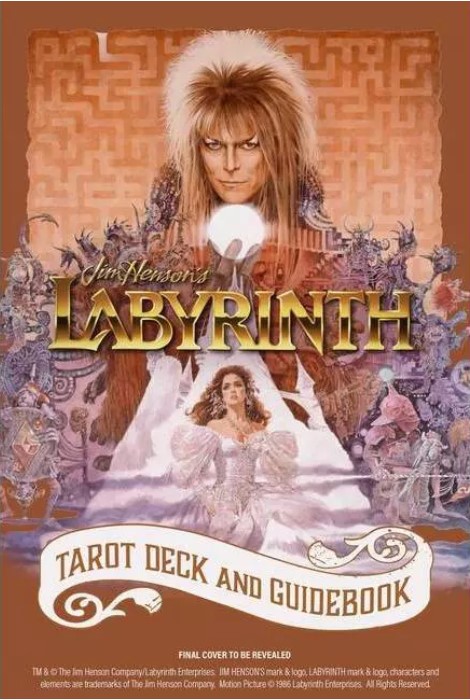 ---
Let Jareth, Sarah, Hoggle, and other beloved characters from Jim Henson's Labyrinth guide your tarot practice with the official Labyrinth Tarot Deck.

Characters from Jim Henson's beloved classic Labyrinth try their hand at tarot in this whimsical take on a traditional 78-card tarot deck, which reimagines Jareth, Sarah, Hoggle, and other denizens of Goblin City in original illustrations based on classic tarot iconography. Featuring both the Major and Minor Arcana, the set also comes with a helpful guidebook with explanations of each card's meaning, as well as simple spreads for easy readings. Packaged in a sturdy, decorative gift box, this stunning deck of tarot cards is the perfect gift for Labyrinth fans and tarot enthusiasts everywhere.
---
Amazon shows off what some of the cards inside look like. They're exactly what you would want to see from a "Labyrinth" Tarot deck. You have the characters that we've all come to know and love. The places that we always wished were real. Some of this scenery stayed with us even after the movie was over and remained in our dreams.
The set also comes with a guide book that will help you learn how to read tarot cards. If you are a beginner the guide book is there to help you learn. If you're a seasoned teller then the guidebook will help you with your readings as a gentle reminder.
This deck is up for pre-order on Amazon here, and will be shipping out around July 20th this year.
DISCLOSURE: This post may contain affiliate links. Meaning when you click the link and make a purchase, we receive a commission, which helps Nerdbot keep the lights on.