We are sad to report that "Brooklyn Nine-Nine" will be ending it's run after eight seasons. As has been previously announced, the diverse comedy/drama will return for season eight. The new season will consist of ten episodes. However, the exact dates are to be determined.
Starring Andy Samberg, Andre Braugher, Terry Crews, Melissa Fumero, Stephanie Beatriz, Jo Lo Truglio, Dirk Blocker and Joel McKinnon Miller, the series won a Golden Globe award for comedy series in 2014. Samberg also received a trophy for lead actor in a comedy, While Braugher was nominated for an Emmy as Captain Holt.

According to The HollyWood Reporter, sources are saying NBC chose to delay the return in order to make sure the award winning show will have a proper sendoff. They plan to use the Olympics to market and give the show a big promotional push for a premiere in late 2021.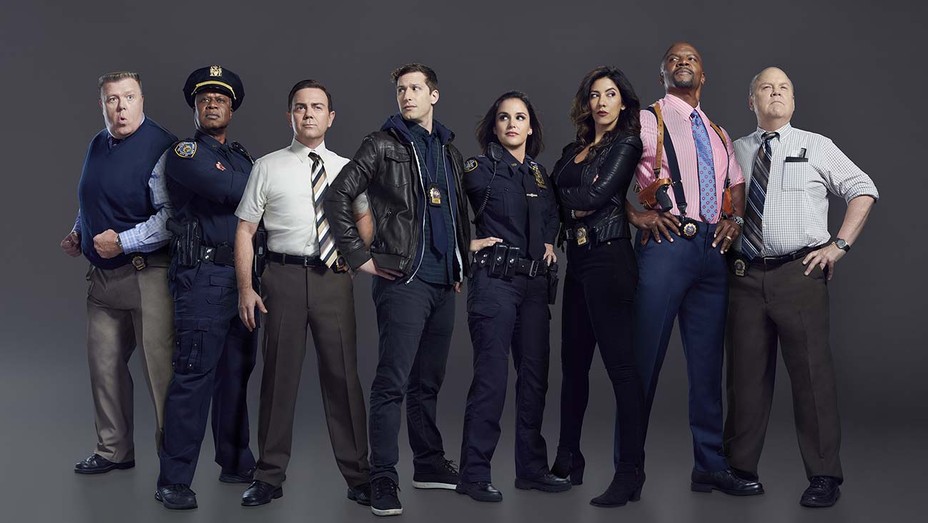 This will be the third season for "Brooklyn Nine-Nine" on NBC. Following the surprising and abrupt cancellation from FOX in 2018. It was "uncancelled" less than 24 hours later thanks to fan support.

Co-Creator Dan Goor had this to say:
---
"I'm so thankful to NBC and Universal Television for allowing us to give these characters and our fans the ending they deserve," Goor said. "When Mike Schur and I first pitched the pilot episode to Andy, he said, 'I'm in, but I think the only way to tell this story is over exactly 153 episodes,' which was crazy because that was exactly the number Mike and I had envisioned. I feel incredibly lucky to have worked with this amazing cast and crew for eight seasons. They are not only among the most talented people in the business, they are all good human beings who have become a family. But most of all, I feel lucky that we have had the best fans in the world. Fans who literally saved us from cancellation. Fans who fill us with joy. Ending the show was a difficult decision, but ultimately, we felt it was the best way to honor the characters, the story and our viewers.

I know some people will be disappointed it's ending so soon, but honestly, I'm grateful it lasted this long. Title of my sex tape."
---
Personally, I will miss the show a lot. Not only for being a hilarious comedy but also for the drama and heartwarming human interactions. I will always remember Rosa coming out to her parents. The tragic heartbreak of her parents reactions and the entire precinct coming over for game night. Or captain Holt and his husband reacting to Peralta's oddly specific Nicholas Cage movie collection. Binging this amazing show has been a source of great comfort in times of quarantine. However, all good things must eventually come to an end. It's comforting to know the show is being given an opportunity to close with a satisfying conclusion.