The official gameplay trailer for the Sims 4 expansion pack: Eco Living is here! We also have some new updates on what this pack will be giving to us as well.
When EA finally announced this particular The Sims 4 expansion pack, it was met with a lot of backlash. A huge complaint was that this idea of conservation and environmentalism had already been explored in Island Living.
People are upset to think of paying $40 for a re-hashed idea for gameplay, gameplay which is critical to many Sims players.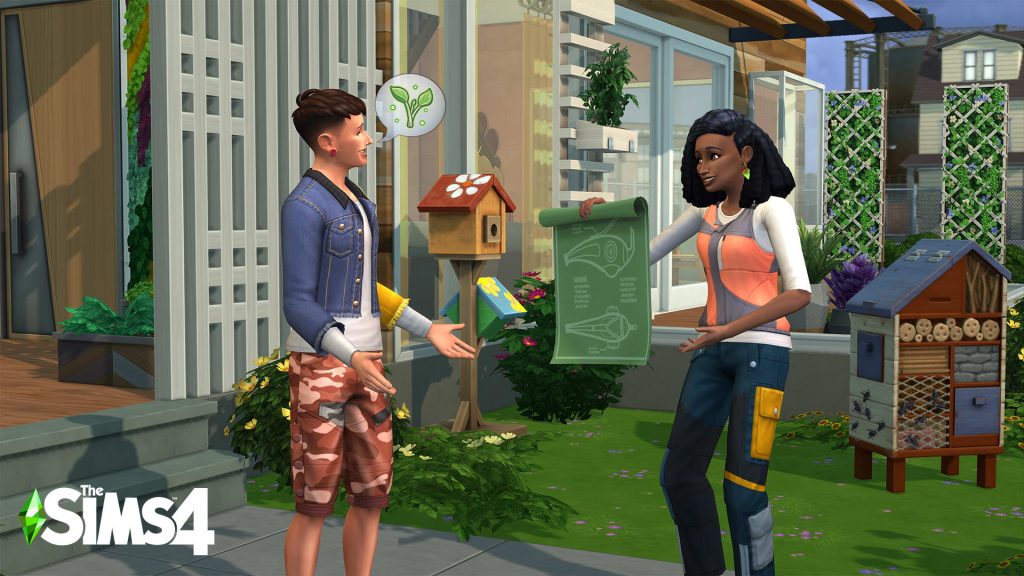 And honestly, we get it. But perhaps these extra details will explain why this is being presented as an expansion pack and not as game pack. The main reason being is that this expansion pack will be creating an impact on the other worlds not just the new world of Evergreen Harbor. As seen below by tweets confirming this information as well as showing an example. But don't worry, you can turn this setting off if you do not want to see the effect is has in other worlds.
This world of Evergreen Harbor comes with three different neighborhoods to choose from: The community of Grims Quarry, Conifer Station, and Port Promise. Based on wording on the Sims website, it seems each neighborhood is in a different degree of pollution.
The Dumpster will be your new friend! In more ways than one it seems, as dumpster woohoo has been confirmed as you can guess by the trailer. If that is not your thing, you can still find use for it as you can collect furnishings for your household by using findings from the dump!
Try the Recycler and the Fabricator! You do not have to sell your old items, you can instead recycle and use the parts for new projects with the help of components from dumpster diving! These are going to be two huge new items for this pack.
Eco Lifestyle will also allow you to harness power by using alternatives that are more sustainable. Generate power at home with solar panels and/or wind turbines which will have a direct effect on your bills. This is a new and exciting feature we are excited to see.
What is a new pack if it doesn't include new career options? Two new career choices allow you to become either a Civil Designer or a Freelance Crafter.
Weekly neighborhood action plans will allow voting to ensue in order to determine which direction your neighborhood will go. Including what to do about the community space which is buildable in almost all available worlds. Not just Evergreen Harbor. You can also sway votes your way creating a very interactive gameplay between Sims.
With this expansion pack also comes bugs. Ok, not those types of bugs… the annoying kind that interfere with gameplay. But an insect farm! Young sims can play with grubs while adults can use them as bio fuel or even a protien-packed meal! Well, this is definitely an interesting addition.
Overall while I can see the disappointment in revisiting a roleplay plot point that was already done, this expansion pack will be seeping into the game as a whole and not just a singular world. With something so large as that, I can see why it isn't just a game pack.

The Sims 4 Eco Lifestyle expansion back will be available on June 5th 2020, for PC/Mac, Xbox One, and PlayStation 4.