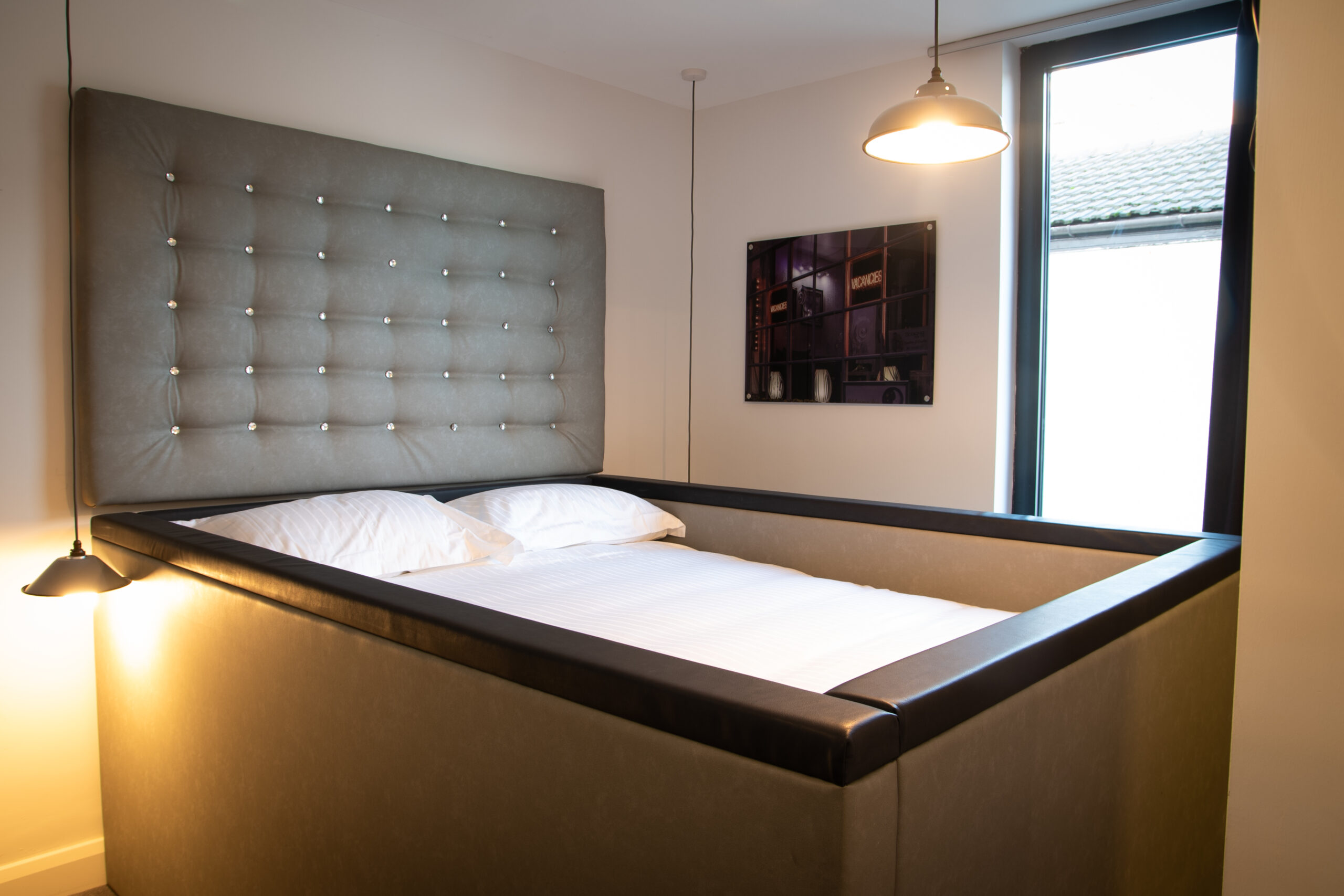 Artist Deliberately Designs a Hotel Room to Be Uncomfortable
We've probably all been to a hotel where the bed is a bit cramped or the bathroom door hits the toilet paper dispenser.  If you can't bear the discomfort, then I don't recommend that you stay in the hotel bedroom designed by Christopher Samuel.  The artist deliberately created it to be uncomfortable and annoying to stay in.  The hotel room is called "Welcome Inn." 
"You probably wouldn't spend more than a night in it in reality. I think the novelty would soon wear off."

Michael Trainor, the creative director of the Art B&B in Blackpool, says about the room.
Christopher Samuel is one of the 19 artists who have fixed up a room at the B&B.  
The Thoughts Behind the Room
You may find yourself a bit baffled by the artist's choice of design.  However, for Christopher Samuel, the room was designed with a serious message in mind.
By making the hotel room uncomfortable, he hopes that the visitors will feel how difficult it is to be a disabled person.  
"I knew people would find it amusing at first, but in reality when you live that every day it's not funny any more. It's inconvenient, it's frustrating, it's humiliating at times."

Samuel says
Christopher Samuel uses an electric wheelchair, and in 2017 he was forced to live "in an inaccessible hotel room as emergency accommodation for three months" (BBC).  
He goes on to describe the difficulties he faced: 
"I was technically made homeless by two local councils, who were arguing over my care costs and access needs." 
"I couldn't move around the room freely. It was very tight. For me to get in the door, I had to go into a little corner, then I had to shut the door behind me and I had to reverse out and navigate around the bed." 
"I couldn't sit at the table. I had to sleep in my wheelchair – I couldn't use the bed. I couldn't shut the bathroom door. I couldn't use the toilet. I had to use a bucket. I couldn't wash because there was a shower." 
He says that he doesn't mind if people find it funny and peculiar at first.  
"On the surface level it's quite playful and theatrical.  But it's real." 
"Why should I be upset if someone has not experienced what I've experienced? The whole point is for that conversation to be had, and for people to think about it." 
Features of the Hotel Room 
In the room, the bed is surrounded by a 3 ft frame, which makes it a task to climb up and over to get in or out of bed.  In addition, there's no privacy when you're in the bathroom because the door doesn't close all the way. This is due to the toilet being in the way.  
There are many more details which make even the smallest of tasks uncomfortable.  
"Anyone with wheelchairs will know that when we go to places that have tables and chairs, a lot of the time you can't get under them, or they'll be too high, or there's a bar in the middle of the table so you have to position yourself to the side.  It's little things like that." 

Samuel explains
He hopes this room will help prove a point about housing crisis.  
"The work is about a wider issue due to austerity and the fact that there's a housing crisis, there's cuts being made to councils. The people who are suffering most are the most vulnerable – the disabled and the elderly, who are being pushed out of society."

Samuel expresses
Samuel's room was delegated by Unlimited, an art organization that supports artists with disabilities, and Art B&B.  
Would you stay in this room?  Let us know in the comments!
Sign up to Receive the NERDBOT News!
[tipjarwp]