If you didn't get to go to the Avengers: Endgame Premiere then you may have missed out on one of the most shockingly romantic gestures of the century. Amidst the high emotions of everyone on the red carpet and the cosplayers and guests at the event, none were higher than Shawn Ritcher as he anticipated the perfect moment to propose to the love of his life, Lisa Lower.
I had a chance to interview the happy couple and the answers to their questions are some of the most beautiful and heartfelt I have ever witnessed.
How long did you know you were going to propose at the premiere?
(Shawn) Although we have only been together about a year and a half, we've known for some time that we wanted to get married and spend the rest of our lives together. But I did want the proposal to be very special, and definitely comic/fandom related…preferably Marvel related because Marvel and Star Wars are the two fandoms that we love the most, and Marvel is the one that we cosplay together the most. I knew that I was going to the premiere about three weeks in advance, but we weren't 100% sure that Lisa was going until about two weeks in advance. Once I knew she was going, I knew that was where I wanted to propose to her. Luckily I was able to get in touch with the right people at Marvel to make it happen…and I was able to get the ring that I wanted.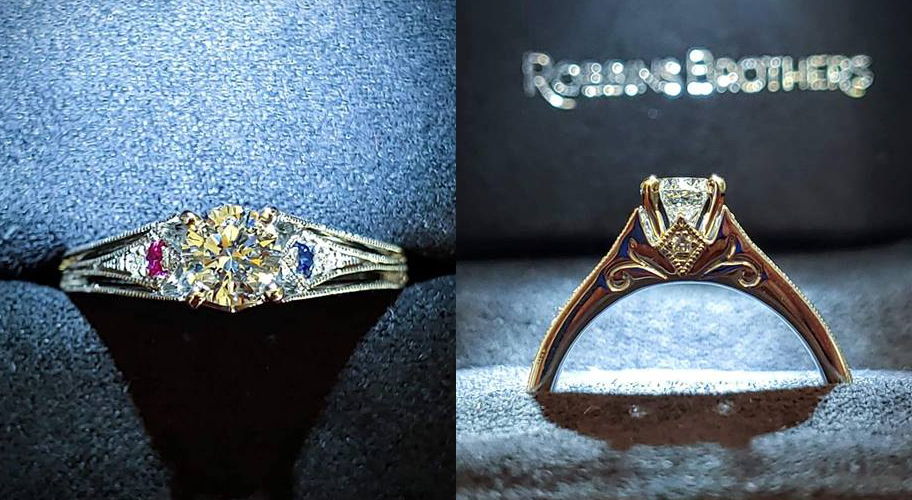 I spent the next two weeks coming up with what I wanted to say. I had a number of versions that all included a number of quotes from Marvel movies. In the end I knew that I was probably only going to have about 30 seconds so I decided to just go with whatever felt worked best at the time.
What was going through your head when you realized what was happening? Did you have any idea?
(Lisa) I had NO idea that Shawn was going to propose that night. We have talked about getting married before and I knew we would be getting engaged at some point, but I never dreamed it would happen like it did.
I was so excited and wrapped up in getting to the premier, that I didn't know what was happening until he pulled out the box. 
Have you both been Marvel Fans a long time? Was this one of the bonding factors of your relationship?
(Shawn) I got into Marvel and super heroes with my son when he was two years old (he will be 13 this weekend). We got into it through the movies and later the TV shows. The increasing popularity of comic conventions and cosplay drew us in even further. When Lisa and I first met at HVFF in San Jose, as we got to know each other a little more we were both amazed to learn that we both were Staff Volunteers at SDCC. It turned out that we had been swimming circles around each other at SDCC for the last six years. We later went through each others photos from SDCC on Facebook only to find out we had been at some of the same panels together. It's pretty wild.
(Lisa) I have been a life long Nerd and have loved Marvel since childhood. I especially love the MCU and all that it has done for our culture.  Shawn and I met at a convention is San Jose and instantly hit if off talking about Nerd culture and all that goes along with it. We started Cosplaying together shortly after that and have several Peggy Carter/ Captain America costumes that we wear.  Our first year together we attended 14 different Comic Conventions in 4 different states! 
Do you have any wedding ideas? Can we expect to see an Avengers Wedding?
(Shawn) The wedding itself has been discussed a fair amount prior to the engagement. It is absolutely going to be a cosplay wedding 100%. We know where we would ideally like to get married, just not sure if that is possible at this point. We also have an idea or two about the dress, and we know who will be making it. And we also know who will be officiating (and he will be in costume as well).
(Lisa) We are still in the idea phase for our wedding plans, but we will definitely have a costumed event with the bride and groom representing our favorite Marvel characters. Who knows, maybe we will invite our favorite Marvel characters to the wedding!  
How do you feel knowing that millions of Marvel fans witnessed your heartfelt proposal?
(Shawn) That wasn't the intent at all, the intent for me was to give Lisa the most memorable marriage proposal that I could, and I would say mission accomplished there. I was happily surprised to find out that she didn't suspect it at all, I was worried that she would figure it out before it happened but she was too overwhelmed with her plans getting to the premiere etc.
(Lisa) The fact that this proposal happened in front of such a huge crowd and was shared with the world is a daunting one. All of the love and best wishes sent to us after seeing it has been so special. Our phones blew up with congratulations when the live stream happend. I have been told that they shared it in the theater as well with a warm response from the crowd there! 

What are each of your favorite Marvel Characters or Movies?
(Shawn) Captain America is my #1 favorite character in any fandom. But I also love Peggy and Bucky. My house is like a Captain America museum LOL. All three of the Cap movies and all of the Avengers movies are my favorites.

(Lisa) I have a hard time choosing a favorite Marvel movie, but if I have to choose just ONE it would probably be Captain America Civil War. I love the bond that Cap and Bucky have. Between their relationship and the one with Peggy, I am just a ball of emotions.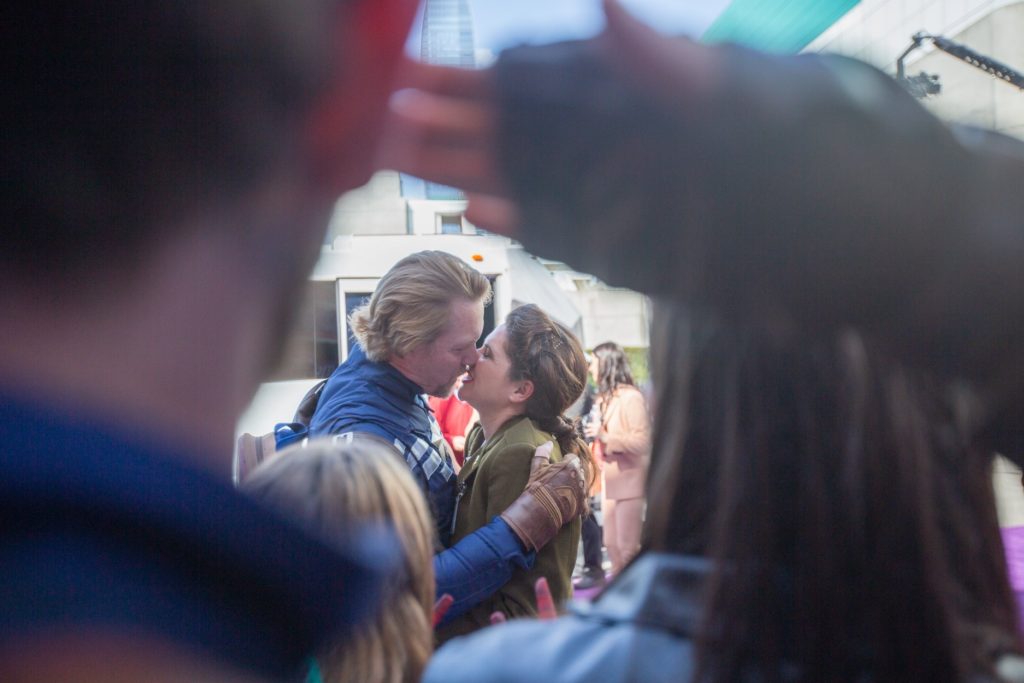 So if you were ever wondering if there is a soul mate for you that you can bond over comicbook heroes with, then answer is yes! Shawn and Lisa are about to start a new journey into marriage together and will now have one of the best stories ever to tell about their proposal. Everyone here at Nerdbot would like to wish them both congratulations and good luck on their new life with each other. And when that cosplay wedding happens, you can bet we will be showing off some awesome pictures.