Watch Rick Baker Sculpt The Joker Bust in New Time-Lapse Video
Best known for his work on Hollywood blockbusters such as Star Wars, Gremlins, Thriller, King Kong and Planet of the Apes, special effects artist Rick Baker has brought his monster-making talent to one of DC's most iconic Super-Villains, The Joker. Ahead of the Halloween release, DC Collectibles has released a sculpting time-lapse video of Baker bringing to life his stunningly creepy version of the Joker:
Designed, sculpted and painted by Rick Baker, the life-size bust is available for pre-order now and will go on sale October 31, as stated by Action Figure Insider. The bust measures 1:1 scale/approx.. 22'' tall and will be available in two versions.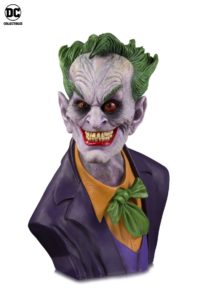 Ultimate Edition: Limited to only 50 pieces (numbered 1-50). Produced from Baker's original molds, offering fans a version that is just one step removed from the Academy Award winner's original creation. The bust showcases Baker's original paint colors for The Joker's shirt and vest. Each bust will contain a certificate of authenticity hand-signed by Baker. MSRP: $1500.00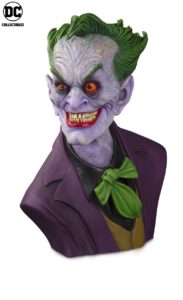 Standard Edition: Limited to only 150 pieces (numbered 1-150). Features The Joker sporting an orange shirt and purple vest. MSRP: $1000.00