If you like sexy men, cheeky cosplayers, and speaking out for a good cause, then we've got a treat for you.
The Adventure Effect has brought together an Avengers-esque team of male cosplayers as #PlayboyPrinces. These cross-dressing Disnwy princes are here to look good and speak out against bullying. Sexual harassment is sadly too common when you're in a costume, especially if you're in a "sexy" or provocative costume.
Check out the #PlayboyPrinces PSA here:
"Consent is sexy!" And here at Nerdbot, we couldn't agree more. Check out all the princes (and gender-bent Hugh Hefner)  who are giving our Nerdbot Girls a run for their money in their money. Just ask before you take pictures and look, but don't touch (without consent).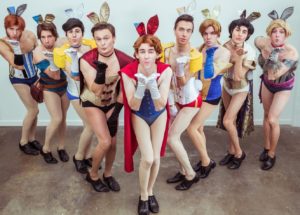 Image: All photos by Happy Trigger LA.
Snow Prince – http://instagram.com/andrewclemmons
Prince Charming – http://instagram.com/thejerm94
Prince Philip – http://instagram.com/lostboycosplay
Prince Eric – Jimmy Sherfy
The Beast – http://instagram.com/kirk_a_cola
Aladdin – http://instagram.com/elijahenchanted
Flynn Rider – Nerds Like Us
Kristoff – http://instagram.com/twfalls
Prince Hans – http://instagram.com/rynoshaughnessy
Hugh Hefner/Tinker Bell – http://instagram.com/ThatPrincessGirl
Check out the grand unveiling of this brilliant group cosplay at Wonder Con 2018 in Anaheim this weekend, March 24th and 25th.