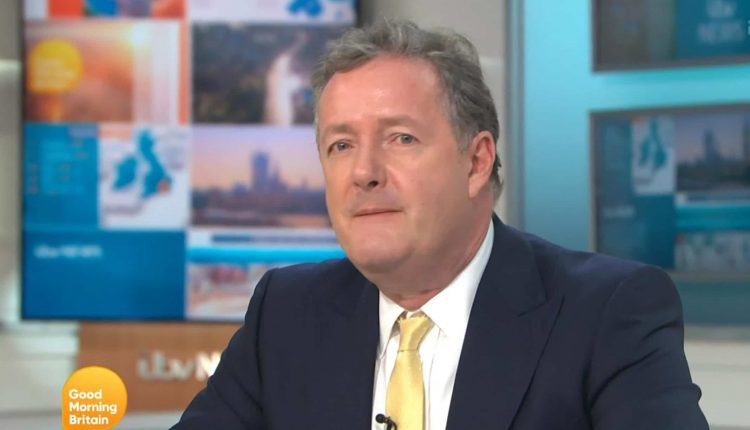 Piers Morgan Storms Off Set, Quits "Good Morning Britain"
We are somewhat delighted to share the news that "Good Morning Britain" resident blowhard and host Piers Morgan has officially quit the programme. This comes not a day after Morgan's pretty awful comments on air following the tell-all interview formal royals Meghan Markle and Harry Windsor gave to Oprah.

The interview was eye-opening, as the Duke and Duchess of Sussex shared many intimate and troubling details from a life in the public eye of the Royal House of England.

Markle shared very private moments with Oprah, revealing that she at one point contemplated taking her own life, and sought help through the 'institution' of the crown. She was denied help, and knew then her mental health and wellbeing was not a priority for 'the firm.'

Morgan used his position on "Good Morning Britain" to attack Markle, going so far as to say on air:

"Who did you go to? What did they say to you? I'm sorry, I don't believe a word she said, Meghan Markle. I wouldn't believe it if she read me a weather report." This prompted a wide response across the UK and the USA, including Morgan's co-host during the segment.
Then this morning, after an on-air altercation with weatherman Alex Beresford (who supports Markle), Morgan stormed off the set. Morgan being Morgan of course returned, and had this to say:
---
"When we talked about this yesterday, I said, as an all encompassing thing, I don't believe what Meghan Markle is saying generally in this interview and I still have serious concerns about the veracity of a lot of what she said. But let me just state for the record on my position on mental illness and on suicide. These are clearly extremely serious things and should be taken extremely seriously and if someone is feeling that way they should get the treatment and the help they need every time. And if they belong to an institution like the Royal family and they go and seek that help they should absolutely be given it.

It's not for me to question if she felt suicidal, I am not in her mind and that is for her to say. My real concern was a disbelief frankly… that she went to a senior member of the Royal household and told them she was suicidal and was told she could not have any help because it would be a bad look for the family. If that is true a) that person should be fired and b) the Royal family have serious questions that need to be answered."
---
A few hours following this, UK network ITV issued the following statement:

"Following discussions with ITV, Piers Morgan has decided now is the time to leave Good Morning Britain. ITV has accepted this decision and has nothing further to add."
Sign up to Receive the NERDBOT News!