I love Converse's shoes so much that I wear them everywhere.  Whether I'm at school, relaxing with my family, or hanging out with my friends, you can find me wearing my Converse.  They are super comfortable and stylish.  
I bet all the other Converse lovers hit the stores, or their computers, when they heard of the new galaxy-themed line.  Especially with the recent talk about raiding Area 51, these shoes are perfect for the occasion.  Now you can storm Area 51 in style.  
And what's more, Converse has made each of these styles customizable to fit your personality.  Below is a list of the out-of-this-world galaxy-themed styles.  
Glitter Platform Chuck Taylor All Star
The darker, metallic blue is perfect for all occasions, and the glitter will add a little sparkle to your outfit.  In addition, the platform style will allow you to look stylish while also giving you a little boost.  
Chuck 70 Flight School Leather High Top
Put on your space suit, helmet, these shoes and you're good to go.  Shine your way through the crowds with this silver metallic design. They also have this style in black if you want to be a bit more subtle.  
Chuck Taylor All Star Miss Galaxy Low Top
This style is my personal favorite.  It has the perfect galaxy design paired with vibrant, deep colors.  Besides the vivid purple and black, this design also comes in a dark pink and white, and lighter blue with black.  
Chuck Taylor All Star We Are Not Alone High Top
"We are not alone."  This style embodies the possibility of there being other beings in the universe.  With these shoes, we will definitely know where you stand in the alien debate. The bright red color enforces your point that much more.  On the other hand, if you prefer to wear a less popping color, this style also comes in white.  
Chuck 70 Metallic Rainbow High Top
Unleash your bright, glittery self with these '70's style shoes.  The color pattern, along with the comfortable metallic suede material create the perfect shoes to go out and have a fun night in.  Besides the color scheme shown above, this style also comes in a classic gold, white, and bronzer version. 
Custom Chuck Taylor All Star Leather Low Top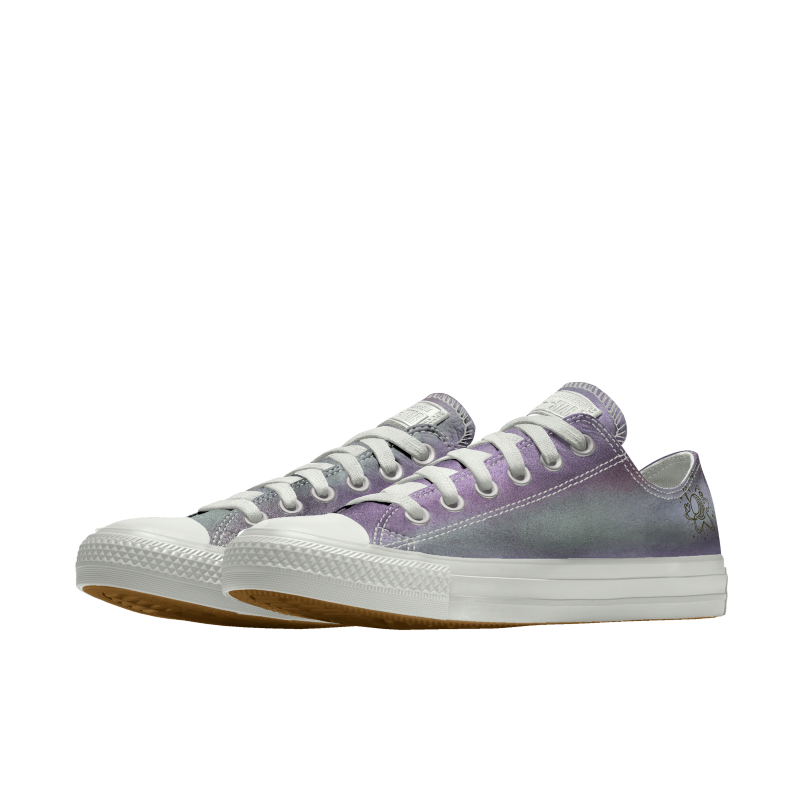 The milder, pastel colors of this style are similar to the rays of the moon and goes well with any outfit.  On the side is a little symbol of a lunar orbit. However, if you prefer the sunshine to moonlight, you can change the color to white and have a sun shining down.  This style also comes in the colors moss green and black.  
Custom Chuck Taylor All Star Leather High Top
These military green high tops are paired with an engraving of NASA's trips to the stars.  This style can also be customized to the classic black and white designs. If you want to mix things up, you can also get it in a sandy brown color with a sun and stars on the side.  
Chuck Taylor All Star Miss Galaxy High Top
This style is similar to their other, low top version.  Although, it doesn't have as many customizable options. As well as the color seen above, this style comes in a deep purple accented with a rich pink.  
Chuck Taylor All Star Moonshot High Top
This funky style will definitely stand out and express your unique style.  Along with having a zebra look, it also demonstrates the trippy feeling of the cosmos and whatever may be out there. 
For more galaxy-themed styles, you can visit Converse.com to shop for the shoe that fits you.  
Which style was your favorite?  Let us know in the comments!
Author